Good morning. Here's all you need to know about what went on in the world of music in the past 24 hours:
The Smile will release a new album titled Wall of Eyes in 2024. Watch the Paul Thomas Anderson video for the title track here.
When We Were Young announced its 2024 lineup, which will feature 50 bands playing its seminal albums in full. Artists performing include My Chemical Romance, Fall Out Boy, Jimmy Eat World, Dashboard Confessional, the reunited A Pretty Girls Make Graves and more. 
Olivia Rodrigo unveiled her video for "Can't Catch Me Now" from The Hunger Games: The Ballad of Songbirds & Snakes soundtrack.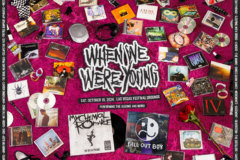 Drake and J. Cole will tour arenas next year.
Next year, Air will embark on its first tour in seven years. The duo will perform Moon Safari in full on the brief run of European dates, which kicks off in February.
Stereolab singer and co-founder Laetitia Sadier announced her first solo album since 2017's Find Me Finding You. Watch the video for the album's first single, "Une Autre Attente." Check out her tour dates here.
Grammy winner Jon Batiste is heading out on his first-ever solo tour. It kicks off in February. Ahead of it, he is performing at the Macy's Thanksgiving Day Parade. 
Kevin Abstract released his first solo album last Friday. Now, he's ready to hit the road. The Brockhampton leader announced a short North American tour that takes place next month.
The reunited Pantera is hitting the road next year with Lamb of God.
Conor Oberst announced residencies in Los Angeles and New York that will take place next March and April. The dates will feature career-spanning sets, a rotating backing band along with guest appearances.
Paul McCartney's photographs from 1963 and 1964 will be on display at the Chrysler Museum of Art. It begins on Dec. 5 and runs through April 7, 2024.
Blue Chips alum Gabe Nandez is releasing a deluxe edition of his H.T. III album that was released in September. Listen to one of its new tracks, "Origami."
Link to the source article – https://www.spin.com/2023/11/news-of-the-day-11-14/


Recommended for you