Ohio State University Honors Van Halen During Spring Game Halftime Performance
The performance was dedicated to the late Eddie Van Halen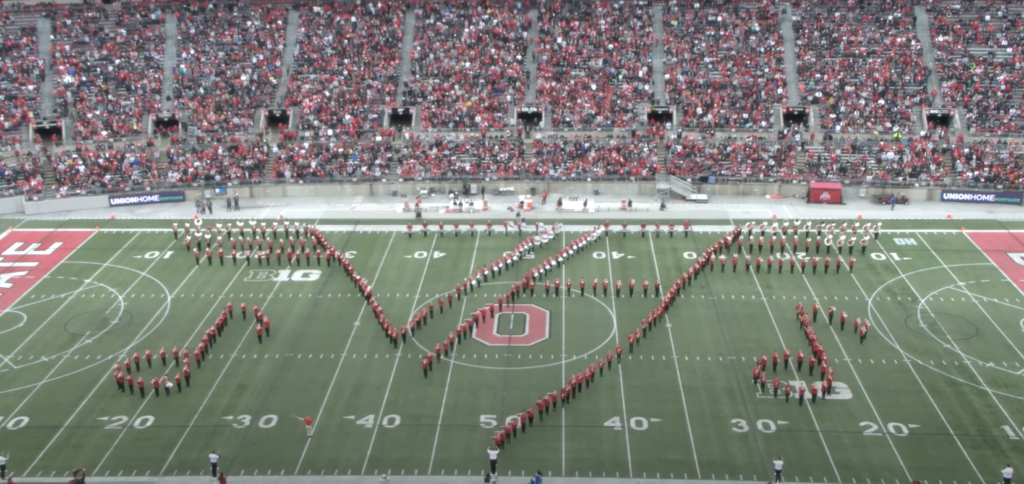 The Ohio State University Athletic Band performed a striking and impressive halftime show in honor of Van Halen last weekend at the school's spring football game. The game, which is a glorified scrimmage, gives a sense of what's to come on the field this fall and that includes the band as well.
The near eight-minute performance included renditions of "Runnin' With the Devil," "Dreams," "Panama," and "Jump." As the moved in-sync together, the band created Van Halen's logo, name, David Lee Roth's 1951 Mercury Eight car, a few song titles, and even a stick figure playing guitar — which was dedicated to the late, great Eddie Van Halen, who died in 2020 at 65 years old after a long battle with cancer.
Ohio State first caught the attention of rock fans when they performed a Rush-inspired halftime show last October. They paid tribute to the Canadian rockers with a 14-minute set including covers of "The Spirit Of Radio," "2112," "Limelight," "Red Barchetta," 'Tom Sawyer," "Closer to the Heart," "Fly By Night," and "YYZ." Nearly 100,000 fans watched the performance dedicated to the also late, great Rush drummer Neil Peart, who died in 2020.
Link to the source article – https://www.spin.com/2022/04/ohio-state-university-band-van-halen/