Trolley Credits Music Industry as 'Instrumental' to Ranking on Deloitte's Technology Fast 50 and Fast 500 Awards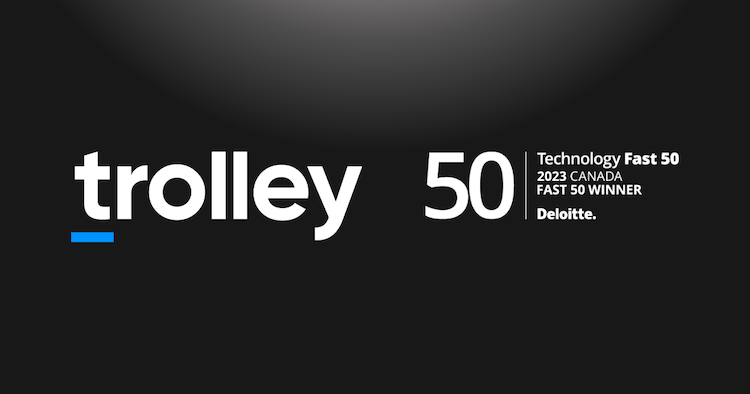 Payout platform Trolley has been ranked No.23 on Deloitte's Technology Fast 50 (Canada) and No.153 on their Technology Fast 500 (North America). Deloitte's annual rankings honor the fastest-growing, most innovative technology companies, based on the percentage fiscal year revenue growth of the past three years. Trolley's rate of growth during this period was over 936%. According to the Canadian fintech, its partners in the music space have been a huge part of their growth.
With clients like CD Baby, United Masters, Ditto Music, Beatchain, and Future Classic, among many others, Trolley (since its launch in 2015) has seen the value in providing enhanced payouts for the music industry — as part of its mission to implement solutions for the broader internet economy.
Bringing advanced automation tools and processes to companies, alongside its ability to execute payments at scale, Trolley has taken innovative steps to tackle the music industry's most significant challenge: providing smooth royalty disbursement experiences for music industry companies, and their artists.
In an exclusive reveal to DMN today, Trolley confirmed that it has secured the No.153 spot on the Deloitte Technology Fast 500 — a prestigious 29-year-old ranking of the 500 fastest-growing companies within North America.
Companies that secure a spot on the annual ranking provide offerings in spaces of tech, fintech, media, telecom, life sciences, and energy technology. Overall, the 2023 Technology Fast 500 companies achieved revenue growth ranging from 201% to an incredible 222,189% over the three-year time frame (2019 to 2022).
To add, Canada-headquartered Trolley has also been awarded the No.23 rank on Deloitte Canada's Technology Fast 50, which celebrates its 26th anniversary this year. Canada's preeminent technology awards program recognizes business growth, innovation, and entrepreneurship in four categories of the Technology Fast 50 ranking: Enterprise, Industry Leaders, Clean Technology, and Companies-to-Watch.
Vincent Guérin, VP Marketing at Trolley told DMN, "We are proud to be recognized as one of the fastest-growing companies in both Canada and North America at large. Our growth is not just a number — it's a demonstration of our commitment to change the way people are compensated."
Guérin emphasized that partnering with industry pace-setters in the music space has been a critical part of Trolley's journey, adding, "Music partners have been instrumental — they've allowed us to refine our offerings and sharpen our competitive edge. Together, we are not just changing the system; we are writing a new future where every artist is paid their due. We are immensely grateful for these partnerships, their trust in us, and their role in our story."
Abdul Refaat, Head of Royalties and Senior Enterprise Account Executive at Trolley, also highlighted that the company's collaborations and partnerships within the music industry are about something much more significant than making payouts. "It's about empowering artists and industry leaders alike," Refaat said.
"Over the past 6 years, I've engaged in thousands of conversations that have deeply informed our approach in this sector. Today, we offer exceptional artist experiences, payouts, and tax filing tools crucial to a sustainable, artist-centric ecosystem — especially for those without the robust infrastructure of major labels," relayed Refaat, adding, "Looking to the future, we will continue to fine-tune our feature set and focus on other major music pain points, such as data transparency or royalty calculations."
Tim Nixon, CEO and founder of Trolley, addressed Deloitte's recognition in a public post, saying, "With a staggering 936% growth over the last 3 years, this journey has been fuelled by our dedicated team and this growth is a testament to the hard work and determination of every single person on our team."
Nixon added, "We are humbled to stand among the ranks of the trailblazers and game-changers of the tech world. Being part of this prestigious list is more than just an accolade; it's a reminder of our commitment to our customers and the difference we're making in the internet economy."
Anders McKenzie, partner and national leader for the Technology Fast 50 program at Deloitte Canada applauded the winners for managing to secure remarkable revenue growth — despite the uncertainties that exist in the economy and marketplace today.
"Fueled by exemplary innovation, creativity, resilience, adaptability, along with superior business leadership, these companies are paving the way as catalysts in their respective sectors and delivering growth and value to the Canadian economy — both at home and beyond," McKenzie said.
Link to the source article – https://www.digitalmusicnews.com/2023/11/14/trolley-credits-music-industry-deloitte-technology-awards/


Recommended for you